HeartFirst releases available now: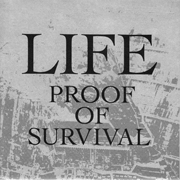 LIFE (Tokio) - Proof of Survival 7"
Just in time for their European tour in 2014, HeartFirst proudly presents a new 7" EP by LIFE entitled "Proof of Survival". LIFE hail from Tokyo and their name stands for "Liberty Independence Freedom Equality". The band has been around since the early 90s and released their first demo tape in 1993, but their records were hard to find so far in Europe, or very expensive. This changes now since at the same time as this new EP, there is a rerelease of their debut LP from 1999 entitled "The World Lies Across Them" on the UK label LA VIDA ES UN MUS. This new EP brings you -- similar to the recent PIG//CONTROL EPs -- three new smasher on one side and one long and heavy burner on the other. After KRIEGSHÖG in the year 2008 LIFE finally is a Japanese band on HeartFirst. And Nori, the bass player of LIFE, used to play in NUKEY PIKES, who released the first record ever on HeartFirst in 1990. Check out a song off the EP here https://soundcloud.com/heartfirst/life-to-the-forgotten . 4 Euros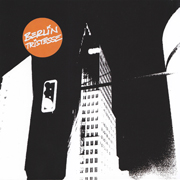 V/A - Berlin Tristesse 7" compilation
This compilation is finally done and it marks release number BEAT 050 on HeartFirst, so it is an anniversary release for the label. I am shipping mailorder copies right now, but distros will have to wait two weeks until the new NUCLEAR CULT EP is also finished. I am really happy with the way this compilation turned out, it is especially great that besides some older HeartFirst bands this compilation has the vinyl debut of two new-ish bands -- BITTER CROP and CRACK UNDER PRESSURE. Included are the following songs which are all unreleased on vinyl: PEACEBASTARD - Sirens, PIG//CONTROL - Invasion, MÜLLTÜTE - Nicht Für, BITTER CROP - I Watch TV, CRACK UNDER PRESSURE - Existence Ends In Oblivion, NUCLEAR CULT - V Wie Faschoschutz, EARTH CRUST DISPLACEMENT - Reasons of War. Thank you so much to everyone in the bands for being part of this project and also to everyone else who had a hand! The packaging is pretty epic, too and causes the higher price. The normal version (pictured above to the left) comes with a lyric sheet, a silk screen printed inner sleeve, a poster and three postcards. Then there is a special version called "Captain Vicious" edition which has a different cover inlay (pictured to the right above, a rip-off of the KZ36 Pt. II compilation LP), white vinyl, an additional flyer and five postcards. More info you can find on the website http://www.heartfirst.net/tristesse/. The normal edition costs 5 Euross, the enhanced Captain Vicious Edition is 6 Euross.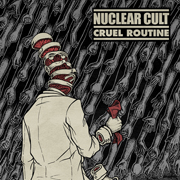 NUCLEAR CULT (Berlin) - Cruel Routine 7"
This is the Berlin band's second 7" EP after their vinyl debut entitled "Better Nightmares" on WARM BATH LABEL from the USA. Their first EP featured 14 songs, this one has ten more scorchers and you can check out some samples here. What Robert Collins wrote on the TERMINAL ESCAPE blog about the demo in 2011 still is true: "It doesn't get any faster, any meaner, or any more intense than NUCLEAR CULT. These German maniacs blaze through 8 songs in just over 4 minutes on their 2009 demo, played with precision and ferocity unmatched." To call the band members "veterans" of this style would almost be an understatement. They have been doing it forever in bands like Y, PINK FLAMINGOS, SOLID DECLINE, and SM-70.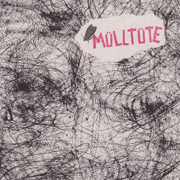 MÜLLTÜTE (Berlin) - Third 7"
Their third EP. Again featuring six songs, again on HeartFirst Records. Also the cover is in line with the artwork of their first two vinyl releases. So the 7" trilogy is finished and it is time to move on to 12" format in the future I guess. The songs on this EP are their most straight forward and fastest ones to date. Essential stuff once more.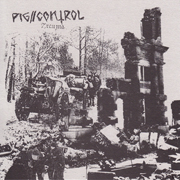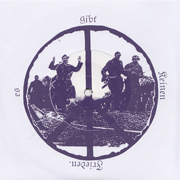 PIG//CONTROL (Berlin) - Trauma 7"
Already their second EP in the year 2013, these guys do not mess around! Four songs again which were recorded on their UK tour earlier in the year. You can stream this EP here. Three ragers on one side and a slow burner on the other. The label is silk screened as well as the white inner sleeve (see above, right), thanks to O..i! They also have one song on the "Berlin Tristesse" compilation.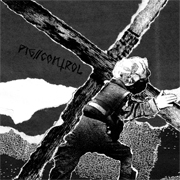 PIG//CONTROL (Berlin) - s/t 7"
After a well-received demo tape that was self-released for Germany and on Sacrificial Tapes in the UK this is the debut vinyl by this relatively new band from Berlin. You can check out their demo online on the PIG//CONTRO website. They play raw, feedback drenched, totally powerful hardcore punk with excellent lyrics. Three ragers on one side and a slow droning song that turns into a rager on the B side. One of the best new bands outta Germany in a while. They have members that have been in various ex-bands and some of them were actually born in Berlin.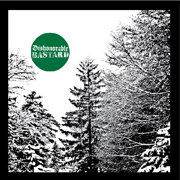 DISHONORABLE DISCHARGE/PEACEBASTARD (Oslo/Berlin) -
Split 7"
Two of Eurospe's best hardcore punk bands share this EP. To me, both bands bring back the best musical aspects of the 90s (yes, there were some). I am not talking about skinny kids, free of animal products and full of self-hate spending entire gigs on their knees. In front of a crowd of kids with their arms crossed, and with backpacks. I am talking about punk bands that played fast, angry and rough hardcore punk in front of a raging, soap-free crowd. The split EP was the format of choice for that kind of band and time. But there are few splits that combine two bands that are equally good. This one has. So this "Dishonorable Bastard" EP is the first split release on HeartFirst in 20 years. DISHONORABLE DISCHARGE (from Oslo, Norway) have already released two 7" EPs and a 12" called "Nightmare Visions E.P.", one of the best records of 2012 (released on VEX in the US and self-released by the band in Norway). PEACEBASTARD (from Berlin) also have two EPs out and are currently working on their first LP. The songs on here are from the same session that brought their "Global Crisis" EP on HeartFirst. Members of both bands have a long list of ex- and current bands that I will not mention here. This EP rages from start to finish, as you already know if you are familiar with both band's previous offerings. Three songs from DISHONORABLE DISCHARGE and two (plus an intro) by PEACEBASTARD.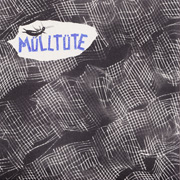 MÜLLTÜTE (Berlin) - Second 7"
These guys from Berlin got something special going on. I do not remember any other band from Germany that ever sounded like them. Their style is totally stripped-down, raw, mid-tempo, powerful, feedback-laden hardcore punk -- rather the USHC way, but it comes with great vocals and great lyrics in German. Still this is no Deutschpunk even though some folks label the band this way. This is their second EP, after a best-selling demo tape and a self-released 7" EP of 2011. Their vinyl debut caused a little hype with someone from the US even calling MÜLLTÜTE "the best German hardcore record in 20 years". But I sometimes question people's expertise on the subject. Probably their other favorite band of 20 years ago was ACME. Or maybe they were not even born 20 years ago. Anyway, with this new EP HeartFirst Records is proud to release another six song ripper by MÜLLTÜTE for the masses. Despite many offers of illegal drugs and worldwide fame from international labels the boys have inked a long-term record deal with HeartFirst, where six song EPs on 45 rpm are the current standard.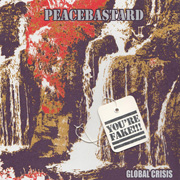 PEACEBASTARD (Berlin) - Global Crisis 7"
It is 2012 and most of your friends decided that neo crust and 80s USHC revival is over, instead they all listen to music like lo-fi black metal and neo folk and play in bands that recycle post-punk, goth or power pop like their heroes from the US, Sweden and Barcelona. PEACEBASTARD do not fall into any of those categories. They remind me of something else: There was a time in the 1990s when the Eurospean DIY hardcore punk was totally happening. Bands like UNHINGED, QUARANTINE, EBOLA, HEALTH HAZARD, LOST WORLD etc. toured the squats of Eurospe, bringing fast and powerful punk with great female vocals to the dread-locked, soap-free youth. After flooring the audiences with their music the band members would hang out with the locals and drink until the sun came up. Some people still remember that style, even though it is kinda uncool today. Many moons ago in Berlin, three guys who had been around the block for a while formed the band PEACEBASTARD, what they played was not quite "crust" and not quite "d-beat" (even though they liked to describe themselves as that). To me they were just pure old-style hardcore punk impact! After playing out for some time as a three-piece PEACEBASTARD recruited the singer from a famous Swedish band on vocal duties. And as a four piece they really reached the next level. HeartFirst is very happy to release their second EP after their 5-song debut EP. This one has 6 new songs that are fast, angry and rocking at the same time. The 7" comes packaged in a four-color silk screened cover done by the Big Double Os and with a special label attached, as the band tried to get away from the usual artwork for this kind of musical style. But most of all, you should go and see this band live and if you have any money left after drinking and pain killers, maybe you want to buy this EP.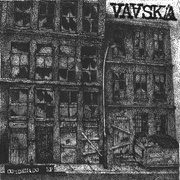 VAASKA (Austin, Texas) - Condenado EP 7"
It is a HeartFirst Records tradition to release records by bands from Canada and Texas, not the rest of the states (not counting some very early releases in the early 90s). So HeartFirst proudly presents a new 6 song EP by VAASKA from Texas. They come from the vibrant Austin scene and feature members from other more or less known bands which I will not mention here. After two 12"s on Todo Destruido and 540 records this is their first 7" EP and on here they have taken a slightly new direction, away from the early raw sound. This 7" has it all, great power, hooks and vocals in Spanish. This 7"s features 6 hits clocking in at just under 10 minutes. Recorded again by Hanz Zimmerman, Mastered by Jack Control and packaged in gloomy artwork by Brian Miller. Besides the lyric insert this EP comes with a double sided silk screened inner sleeve printed by the Big Double Os. The 2nd pressing is available now (red ink) and it does not stink as much as the first version (blue ink). VAASKA are currently writing songs for a split 7" with SKIZOPHRENIA from Japan to be released in the summer of 2013.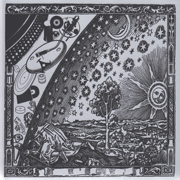 V/A (International) - Untitled HeartFirst Anniversary 7"
The lowly anticipated HeartFirst 20th anniversary compilation. This one is highly limited and you can only get it from me personally or through mailorder. There is one copy per customer and I will write the names on the label. It has unreleased (on vinyl) songs by BURIAL ("Dissatisfight" from the "Hungry Wolves" session), RUIDOSA INMUNDICIA ("Inconcreto" from the "Huellas De Odio" session), DISHONORABLE DISCHARGE ("Mind Control" recorded especially for this compilation), KRIEGSHÖG ("Warcry", the cover by Japanese band THE SEXUAL which came out on their limited cover cassette), SOTATILA ("Kylmän Soda Äpärät" from the "Vituiks Meni" session) and the old but yet unrelease-on-vinyl KORT PROSESS song "Velferdsstat" (from their 1994 EP session). Originally my intention was to just give this record away to personal friends and folks who have helped the label in the past, but that would be too expensive. This record costs 6 Euross.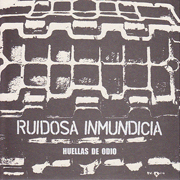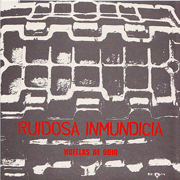 RUIDOSA INMUNDICIA (Vienna) - Huellas de Odio 7"
One of the best bands world-wide at the moment. This is an eight-song-scorcher that does not let up. At least as good as their previous releases -- debut 7" and split LP with SOLID DECLINE on THOUGHT CRIME/RESIDUE and several sampler tracks. Though the band lives in Vienna, the lyrics are in Spanish because the singer is from Chile. How many bad hardcore 7"s with eight songs do you know? I am not talking about grind, but no frills hardcore punk. If you have seen this band live, you know how great they are. No expensive was spared for this release: Recorded by Frank Bolz at SAW in Germany, smart cover artwork that works both ways (front/back), screenprinted on an offset printed cover in different colours. You need this.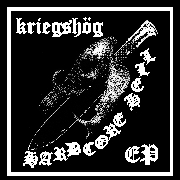 KRIEGSHÖG (Tokyo) - Hardcore Hell EP 7"
Re-release of their debut EP with new artwork and one extra song. One of the most amazing bands in recent times and one of the hottest new bands from Japan at the moment. The original sold out instantly in February 2008. Here is what MRR hat to say about the original version: "I am almost left speechless on how fucking good this record is. the ultra-hardcore brutal legion needs to maim and murder to get this record 'cuz it fucking kills an I heard it is already long gone. ok, what does it sound like, you may ask? driving, fist-pumping hardcore with loads of distortion, ferocious drumming, and vocals that drive right through my skull. side one paints a picture for you by having some war-time sample – ya know, gunfire and commotion followed by a sic-year-old girl's blood-curdling scream – then in comes the audio assault. killer!" (martin sorrondeguy, maximum rocknroll no. 300).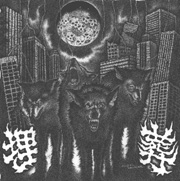 BURIAL (Germany) - Hungry Wolves 7"
The wolves are back in town -- yeah! This record is the best release of their early line-up, with Lucien on guitar. Better vocals, better songs, and a better sound than before, and a step up from their already amazing LP. This EP brings four new songs that are somewhat influenced by traditional Japanese Hardcore Punk, but Burial have found a style of their own that is just totally driving, and extremely powerful. Simple as that. To top it off, Japanese artist Sugi did the front cover artwork.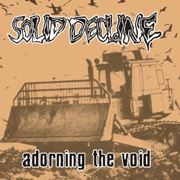 SOLID DECLINE (Berlin) - Adorning The Void 2 x 7"
After their debut EP on HeartFirst and a split EP w/ Strong Intention on Vendetta Mob the Berlin band brings you ten more songs. More varied yet more powerful than before. This one was recorded analog by Frank Bolz (who also did Bombenalarm, Dean Dirg, Burial, Doomtown etc.), so the recording definitely does the brutality of the songs justice. The double EP comes in a foldout screenprinted cover and is limited to 700 copies.
DEUTSCHLAND IN DECLINE - 7 Band, 7 Song Compilation 7"
As the title hints, these are all recent German bands. For a long time there have not been this many good local bands playing killer music. So HeartFirst Records put together this compilation with my friends' bands. Some of these already have a bunch of releases out on various labels. This one has otherwise unreleased tracks by Amen 81, Bombenalarm, Burial, Chainbreaker, Doomtown, The Now-Denial, and Solid Decline. This is the best German Hardcore Punk 7" compilation so far. Now that does not say all that much because most good German comps in the past were LPs. but HeartFirst is a 7" label so here we go. No Crust, no D-beat, no Deutschpunk -- just straight up fast rough sounds. All recordings are top notch sound quality from the bands' most recent sessions. The compilation in a full colour cover with a screen printed outer poly sleeve. You can find a special web page for the compilation with further information .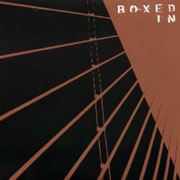 BOXED IN (UK) - 3rd 7" a.k.a. Distance
A Veteran band from the UK with their third 7", after two classic 7"s on Crime Scene from the UK and Busted Heads from Sweden. This EP is their most powerful and angriest to date, totally solid quality of non-stop fast 80s-style Euros Hardcore in the vein of Ripcord or even BGK, recorded by Sir Bri of Doom fame. Everything is on eleven on these seven songs, one of which is a Kafka Prosess cover version. It comes in a killer silk screened fold-out cover.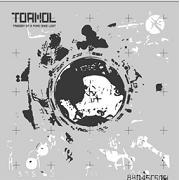 TOAMOL (norway) - Tragedy of a Mind Once Lost 2 x 7"
Besides Kolokol, TOAMOL is one of the best bands from Norway in recent years. Eight songs of heavy Hardcore Punk somewhere between old Norwegian bands and mid-era NEurossis. There is something unmistakingly Norwegian in their sound and they have ex-members of Kort Prosess and Alltid Jaget, so the experts will know this is good. comes in a silk screened fold-out cover designed by Robin ex-Kort Prosess, limited to 550 copies.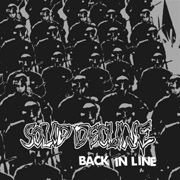 SOLID DECLINE (Germany) - Back in Line 7"
A totally rocking platter with six songs, wrapped in an awesome silk screened cover. Solid Decline are from Berlin and the follow-up band to the mighty Y, who had a lot of releases out on labels around the world, for example on Sound pollution. Unlike Y they have no blast beats and play straight-up fast Hardcore Punk that cannot be categorized easily -- which is a good thing. This EP was recorded at the legendary Kuschelrock-Studio in Bremen. Also available by them is a split 7" EP by Solid Decline and Strong Intention, recorded at the same recording session and released on Vendetta Records.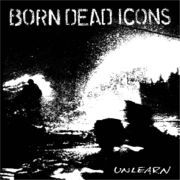 BORN DEAD ICONS (Canada) - Unlearn 7"
One of the best North American bands of recent years. An amazing live band, too. They have done various tours of the USA, Canada and Eurospe. People love to compare them to Motörhead, Discharge and Amebix, but they just found their own style. These four songs (three fast ones and one instrumental) were recorded together with their last LP/CD "Ruins" on Feral Ward.
Available on Norwegian Leather: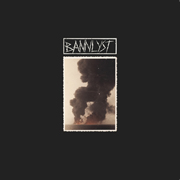 BANNLYST (Molde/Norway) - Diskografi LP
The second release on Norwegian Leather Records is the BANNLYST "Diskografi" LP with their songs from the split tape with ANGOR WAT (their best material), the "La Dem Ikke Lure Deg" 7" songs, "Terrorstyre" from the "Nå Eller Aldri" compilation and a cover version. Everything has been carefully remastered from the original cassette tapes and vinyl as all master tapes were lost over the years. BANNLYST were from Molde in Norway, existed between 1982 and 1985 and are one of the few legendary old Scandinavian bands that have not seen legit re-issues until now, so here is your chance. Members from BANNLYST later went on to play in SO MUCH HATE and STENGTE DØRER, among other bands.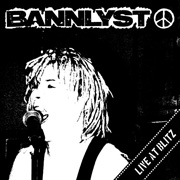 BANNLYST (Molde/Norway) - Live At Blitz LP
Recorded at the gig celebrating the Ten-Year-Anniversary of the BLITZ squat in Oslo in 1992. An "Official Bootleg" sort of thing with excellent sound quality and good crowd noise. The full gig that the songs on the Blitz-Live-Hits CD-compilation were taken from. Limited to 500 copies.
SO MUCH HATE (Norway) - How We Feel LP re-release
Finally, here it is: An official re-release of the band's legendary first and best LP that originally came out on the legendary X-Port Plater label back in 1987. This one is up there with other classics of US- influenced Euros HC of the 1980s such as Negazione, Heresy, Ripcord, Spermbirds, BGK, etc. members used to play in Kafka Prosess and Bannlyst.
DIGITAL RELEASES (vinyl versions are long gone, sorry)
ALLTID JAGET (Tønsberg, Norway) – Du Synker Inn I Døden.... CD...12 songs of great Norway-HC, style- wise like a mix of KORT PROSESS, SLAYER, and SO MUCH HATE. Members went on to form TOAMOL (with ex-KORT PROSESS bassist), big two-coloured booklet. 6 Euros
STRAIN (Vancouver, Canada) - Bomb Wedemark CD... their early hits off the Overkill 7" and the Pushead 7" single, plus an unreleased demo song. 8 Euros
KORT PROSESS (Horten/Oslo, Norway) - Svart Natt CDep...16 songs, their last and best record, the packaging alone is worth the money: letterpress envelope and a booklet full of great artwork for each song, drawn by Robin, their guitarrist. 8 Euros
STRAIN (Vancouver, Canada) - Our End CDEP...2 songs off their out-of-print "These Years/Regret" 7" on HeartFirst, the other two songs are off their New Age 7" which never came out 6 Euros
BRAND NEW UNIT (Vancouver, Canada) - No Heroes CDep...3 songs off their "All For Nothing" 7" and three more from the same session, six songs of extremely ass-kicking yet melodic skate punk that totally rocks 6 Euros
KORT PROSESS (Horten/Oslo, Norway) - 18 song CDep...combines their first two EPs (entitled "1993" und "1994"), the whole thing is over in 20 minuten. KORT PROESSS were one of the best hardcore punk bands of the 90s 6 Euros
STRAIN (Vancouver, Canada) - Repetition CDep... combines their first two singles on heartfirst plus one song from the Pushead compilation "L.A. vs. Vancouver" that never came out. 6 Euros
STRAIN (Vancouver, Canada) - Our End CDep... their final session with the These Years/Regret-Songs and two more from the same session which were supposed to come out as a 7" on NEW AGE RECORDS, but never did. 5 Euros
THE LABEL FORMERLY KNOWN AS HEARTFIRST
SUPERFAN (Germany) - Fuck You 7"
SUPERFAN (Germany) - Out Of Style 7"