News September 2013: PIG//CONTROL now have a Bandcamp page. Here you can also listen to the stream of their s/t HeartFirst-EP. They are also working on a new EP to be released before the end of the year. I have also added new hits to the mailorder section: JUNGBLUTH LP, CITIZENS PATROL/REPROACH Split 7", SNOB VALUE 7", RAVAGE FIX 7" (excellent!), new RAWMANTIC DISASTERS records like the ANGER BURNING/LIVET SOM INSATS Split 7" and the BESTHÖVEN/FINAL SLUM WAR Split LP.
News February 2013: The new year starts with two new releases on HeartFirst. Both have suffered some delays but it was well worth the wait. One is the debut 7" EP by PIG//CONTROL from Berlin with four songs and the split 7" by PEACEBASTARD (Berlin) and DISHONORABLE DISCHARGE (Oslo) entitled "Dishonorable Bastard". The PEACEBASTARD songs are from the same session as their "Global Crisis" EP on HeartFirst. The Norwegians went into the studio especially for the three songs on this split, shortly after their ass-kicking "Nightmare Visions E.P." 12", one of the best releases in the year 2012.
PIG//CONTROL and MÜLLTÜTE went on small tours of the UK in early February and had lots of fun. Speaking of touring: BURIAL will embark on their 2nd US tour in April, this time on the East Coast. Also, RUIDOSA INMUNDICIA will go on an East Coast tour in the late summer of 2013.
RUIDOSA INMUNDICIA and MÜLLTÜTE will have one song each on the upcoming MaximumRocknRoll LP compilation. The MÜLLTÜTE contribution is from their HeartFirst EP session and one of the best songs from it. Speaking of compilations: The next release on HeartFirst will be a compilation of Berlin bands titled "Berlin Tristesse". Bands that have already handed in songs are PEACEBASTARD, PIG//CONTROL, on the case are CRACK UNDER PRESSURE (who have recorded a demo), NUCLEAR CULT (who will record their second EP in late April, to be released on HeartFirst), MÜLLTÜTE, EARTH CRUST DISPLACEMENT und BITTER CROP.
VAASKA will play this year's Chaos in Tejas and are heading into the studio in March to record songs for a split EP with the great SKIZOPHRENIA from Japan. Their third EP is available at the HeartFirst Mailorder by the way.
News November 2012: To celebrate the fact that two HeartFirst releases made the list of Ken from PRANK Records of the best records of the 90s, and because I have recently moved house and realized I still have some of the old goodies laying around, I am making some older releases available again to the general public. Here we go with some fine Norwegian noise:
ANGST - Four Song 7" EP 5,-, CAPTAIN NOT RESPONSIBLE - Self Pity 7" 5,-, KORT PROSESS - 1994 7" 7,-, KORT PROSESS - Svart Natt 2 x 7" 11,-, ALLTID JAGET - Du Synker Inn... 2 x 7" 10,-, JIN'RIK'SHA' - End Present 2 x 7" 11,-.
News June 2012: Since it is summer, you might want to take advantage of the HeartFirst clothing line. There are four different designs: SO MUCH HATE, RUIDOSA INMUNDICIA, DEUTSCHLAND IN DECLINE and BURIAL. They are printed on FOTL heavy and cost 10 Euross each. UPDATE: Please inquire for available sizes, in the meantime several sizes have sold out for certain designs. SO MUCH HATE (only L), RUIDOSA INMUNDICIA (M, L, XL), BURIAL (S, M, L).
News May 2012: The May 2012 issue of Maximum RocknRoll fanzine has the reviews for the new releases. Ratings are "fukkn awesome" and "fucking great".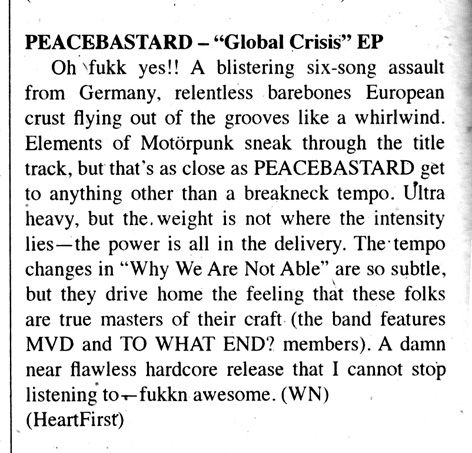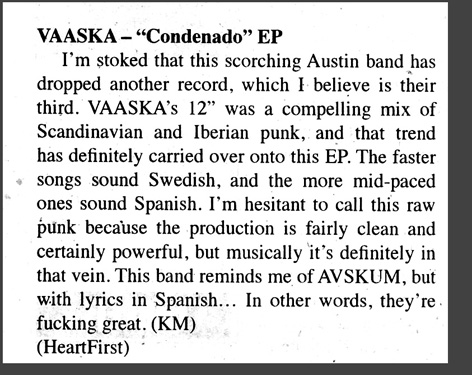 News March 2012: Finally, my two new releases are out. I love Spanish vocals and I love great female vocals in hardcore punk. While RUIDOSA INMUNDICIA combined these two aspects, you now get them seperately. Two great 7" EPs: VAASKA from Austin, Texas, and PEACEBASTARD from Berlin. Both records have 6 killer songs, both bands' guitarrists use Flying Vs. More info and cover artwork on those releases below.
News February 2011: Happy New Year Brothers and Sisters! Oops, it is already February? Check out this review of the RUIDOSA INMUNDICIA 7" from MRR #332 below. Yes, it is one of the best records of 2011. Also the band will tour Japan and Australia in April and May 2011. They are one of the best live bands and best drinking buddies around, so make sure to check them out if they are in your area.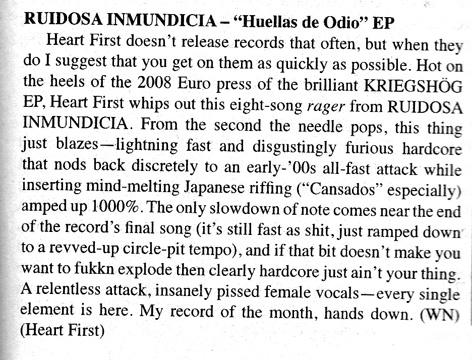 Shortly after dropping their epic LP on the world, the mighty KRIESGHÖG have unfortunately decided to split up. They played their Japanese farewell gig but will appear at this year's CHAOS IN TEJAS in Austin. Check out the insane lineup here: http://www.brooklynvegan.com/img/metal/various/CIT2011-1-17.jpg
News November 2010: The new RUIDOSA INMUNDICIA - Huellas De Odio 7" is out now and I am very happy with the way it turned out. It has eight smoking songs, totally powerful and the vocals are some of the best in Hardcore punk today. In case you had the chance to see this band live you know what they can deliver, they just came back from playing the UK and a short tour of Germany. Their first EP from 2005 on THOUGHT CRIME was one of the best-selling records in the HeartFirst mailorder ever. The band members also rule personally and I am more than happy to release their new EP. It was well worth the wait. They also have a song out on the HeartFirst 20th anniversary compilation. This one is highly limited and you can only get it from me personally or through mailorder. There is one copy per customer only. It has unreleased (on vinyl) songs by BURIAL ("Dissatisfight" from the "Hungry Wolves" session), RUIDOSA INMUNDICIA ("Inconcreto" from the "Huellas De Odio" session), DISHONORABLE DISCHARGE ("Mind Control" recorded especially for this compilation), KRIEGSHÖG ("Warcry", the cover by Japanese band THE SEXUAL which came out on their limited cover cassette), SOTATILA ("Kylmän Soda Äpärät" from the "Vituiks Meni" session) and the old but yet unrelease-on-vinyl KORT PROSESS song "Velferdsstat" (from their 1994 EP session). Originally my intention was to just give this record away to personal friends and folks who have helped the label in the past, but that would be too expensive. So I am selling 200 copies to the general public (ha!) and give 300 away. I don't think this will sell super-fast (like YOUTH ATTACK! fast, gone in 5 minutes), but I would not sleep on it either if I was you, unless you know me personally and think you should get one for free anyway. Those copies will be around for a long time according to my plan. There is a limit of one per customer and I will write the names on the label. There are also some great new records in the mailorder, e.g. THE NOW-DENIAL - Fuck Your Boredom 7", 2nd ALPINIST LP, DESKONOCIDOS LP, VAASKA LP (Euros version with both 12"s), SEEIN' RED/MIHOEN Split-10", VOGUE - Pompshit 12". There are some new plans for records, but they are not concrete enough to talk about them yet. So there is no slowing down (from a very slow pace anyway) in the year 21 of the label. By the way, BURIAL will tour the West Coast in early December. Go and see them and buy them drinks!
News August 2010: In late October I will release the HeartFirst anniversary compilation which has been in the works for some time. It will not be distributed the usual ways but just be sold at the anniversary gigs and through this mailorder in rather limited quantities (150 copies). Besides those copies I will give the majority of the records away to friends. But this will only happen in person. Also I will write each person's name on the record to personalize it. So if you do not think you are a friend of the label and will receive a copy for free but want to buy one, you can either get an update by the usual heartfirst newsletter or write an e-mail to the following address to get the necessary info once the compilation is done: theysentencedmetotwentyyearsofboredom[aet]heartfirst.net. (Luckily you don't have to type this). Don't ask me which bands will be on the compilation but ask yourself if you think the label can come up with something decent. And if so, get on the mailing list. Thank you.
News July 2010: The new smoking RUIDOSA INMUNDICIA EP has been recorded and it will contain eight new hits. The release date is planned for late October and will coincide with the HeartFirst anniversary weekender thing. The HeartFirst anniversary compilation will also have a RUIDOSA INMUNDICIA song from the same session. The party will be held Oktober 22 and 23 2010 at the KOMA-F in Berlin and these bands are doing to play: NAILS (Berlin), NUCLEAR CULT (Berlin), OVERPOWER (Leipzig), PEACEBASTARD (Berlin), RUIDOSA INMUNDICIA (Vienna, Chile), SOTATILA (Vienna, Tampere). Afterwards there will be DJs both nights. In case you can read the Kanji, you can find an interview with me in the latest issue (No. 7) of the great EL ZINE fanzine from Japan.

Note: Lately I don't update this thing much. I dunno why. If you go to the mailorder you'll see that this section gets updated more frequently.
News June 2010: Since I update this thing very infrequently, some people started thinking that the label and mailorder might be closing down. This is not the case! But someone even placed an order, thinking this would be the last chance to order. So maybe this could be a good trick to drive sales?. This year marks the 20th anniversary of the HeartFirst label, the mailorder is five years older. So it's time to celebrate with two new records which should be out in October: A new RUIDOSA INMUNDICIA EP and a HeartFirst anniversary compilation ep. More details will be posted here once they materialize. There also will be a little anniversary party weekend, held at the KOMA-F in Berlin on October 22/23 with bands and DJs. There are tons of new records in the mailorder, for example the new FERAL WARD goodies (KVOTERINGEN, SYSTEMATIC DEATH, COMPLICATIONS), new NY VAG stuff (INVASIONEN, AC4, hopefully soon the new MASSHYSTERI) and the DAYLIGHT ROBBERY LP on the great RESIDUE label outta Chicago. Also highly recommended is the LP of Norwegian rockers/drinkers KNUSTE RUTER which is even better than the already great EP of last year.
News September 2009: I am really sorry for not updating this more frequently. If you learned German you could realize that this part is updated more frequently. Also I have started a blog because the world needed one more: http://blog.heartfirst.net. But then I was too lazy in August oh well. The blog gets update much more frequently than this website. Summer is holiday season. But not for me because I spent my vacation days in spring. But in August I found the time to go to Norway for an extended weekend. Apart from being invited to great birthday parties and taking a stroll along the Oslo Fjord I got to see the first KORT PROSESS gig in many years and they were totally awesome. One of the best gigs I have ever seen them play, and I have seen many of their gigs. And I was not the only person who thought that, some other friends who had seen them many times agreed on that. They will play again at the grand BLITZ re-opening in late September along with STATENS MENN and ALLTID JAGET. And while we are talking about re-unions: STRAIN will play one gig in Seattle on October 3 together with UNDERTOW and UNBROKEN. Not, it's really 2009 -- I just checked the calendar! Again with some BRAND NEW UNIT personell helping out in the STRAIN field as on their first Euros tour in 1995. Anway, let's look ahead. New smashers in the HeartFirst mailorder are the newish releases on the great SEARCH FOR FAME label run by the drummer of the great band SNIFFING GLUE. How many labels do you know which are run by drummers??? See! EPs by DISCO VIETNAM, LUST FOR LIFE, TERRORIZE KIDS. All three are extremely solid 80s-Retro-Ami-Hardcore-Punk outta Deutschland which sounds like it could have been on the FLEX YOUR HEAD Comp. Also new is the discography LP of Bostonians LIBYANS. Raw, somewhat melodic but not wimpy uptempo Punk with great femals vocals. The LP combines two 7" singles and their self released rather short 12". This quality band will embark on a Eurospean tour in 2010. Very solid Swedish hardcore from the TOTALITÄR camp is delivered by MAKABERT FYND on their YELLOW DOG LP, even though it is not as good as their EP. Several labels were fighting to release this one, esp. US ones. What would US labels do without Swedish bands, hehe. For lovers and other fans of softer sounds there are two new 7"s by MARVELOUS DARLINGS 7"s (featuring FUCKED UP, NO WARNING etc. members). You might remember their solid DERANGED 7". There actually is another new 7" of theirs out in Eurospe but I don't carry that one. They must love Eurospe and want to tour here or something. Even better is the new STATUES 7" on P.TRASH. I am constantly updating the "Rare" and used part of this website with various shit of the punk or more more pop kind. So buy lotsa shit so that the HeartFirst team can take a trip to Neuschwanstein!!!
News March 2009: The KRIEGSHÖG EP made it into many Best-of-2008 playlists in MRR 310. I am thrilled!!! Below is what the fans said, in short: If you like Hardcore Punk, you need this record!
Cissie Scurlock: I've already stated that Hardcore Hell is one of the most intense pieces of music that I've heard in a long time. Kriegshög ist best listened to alone and at full volume, so you can revel in the crazed, dense sounds. It continues to get better with every listen.

Martin Sorrondeguy: Drum roll, please.... This here is the best fucking record of the year!! I have abused my neighbors, lovers, and friends with the insanity that drips from this piece of plastic. I can't get enough of this record. It has brought chills to my spine, made me blow a speaker, and acted as the mental soundtrack to my imaginary drive-by-shootings at last year's Republican Convention. Fucking ridiculously good.

Golnar Nikpour: AUUUURGGGHH!!!!! This record is sick, sick, sick. I had to wait for an attainable version, since the Japanese press sold out faster than Martin can find a date in a laundromat, but it was worth the wait. Vicious, unheard of sounds make this record seem like it's from another fucking planet. Best hardcore EP in years!?! Andrew Underwood: Kriegshög is on fire. They can do no wrong.

Justin Briggs: Hands down the best new band on Earth. Perfectly executed, noisy D-beat crust done the way only the Japanese can. I don't really know what else to say -- it's so hard to explain perfection. And while I picked this EP for my list, everything Kriegshög put out this year (split-EP with Dog Soldier and a split 7" with Deathtribe [see next year's list]) was phenomenal, I listened to Hardcore Hell the most. I am stoked for way more material from this killer band.

Paco Mus: "Play loud and die" it reads the back sleeve of this hardcore monster. And that's just what I did, many, many times as a matter of fact. I am still alive though. Hailing from Japan, Kriegshög continues the tradition of Frigora or Framtid. Japanese noisy hardcore highly influenced by the early Swedish bands, that is. Kriegshög's recording makes them sound more like Zouo than most Swedish bands, mainly because the agonizing vocal delivery. The whole record sounds tense with the aggression and intensity levels in the red as soon as the war samples that open the A-side are over and remain that way for the entire duration of the EP. They also released a split 7" with Deathtribe that is just as good.

Vinnie La Russa: Tell me there's a band that sounds like Kuro and Anti-Cimex and I'll sell you my left (last) kidney. Read about them on a message board, ordered fifteen copies of this single for my burgeoning distro, received three and the rest of my money -- all sold out. Gave one to MRR for the library, one to Blind Justin, kept one for myself and the rest is Popsike history. Not sure on the accuracy of the original description but I don't fucking care; this record is pure insanity. The B-side starts with bombs, guns, and crying. Switch to the instruments and it's feedback and noise with everything in the red. "Play Loud and Die!" Thank you, my sentiments exactly.
Note from the manager: I just got the 2nd press of this classic disc in. This time, instead of the black inner cover there is a printed inner cover with a live photo. If you want to order, you can choose which one you want as I still have a bunch of the first press laying around. Besides the inner cover, both versions are exactly the same.
News January 2009: I wish you a great new year 2009! There are many challenges coming our way for sure. Good luck! The label will surely keep me busy with one great new release which is still secret. The KRIEGSHÖG 7" re-release keeps on selling really fast. I am very happy to see how well this great band is received around the world. There is also new stuff in the mailorder section, incl. the second ZYANOSE 7" on CRUST WAR and the AXIS OF WOLVES compilation LP with BURIAL, NIGHTMARE and CRUDE. The two BURIAL songs on this one are outstanding. Unbelievable but true: The German post has lowered some of their prices. Most notably is that I can now send some 7" EPs (4 or 5, depending on weight) for 3 Euross inside of Eurospe and 6 Euross world wide as an airmail letter. So stop your cryin' and start yer buyin'!
News December08: Kids, check out this awesome review from MRR #308, Januar 2009. Note: I totally agree with the description of the sound of the HÖG. Unfortunately they got the email-address wrong. The correct one is stuckinthe80s /spammersdie/ at heartfirst.net.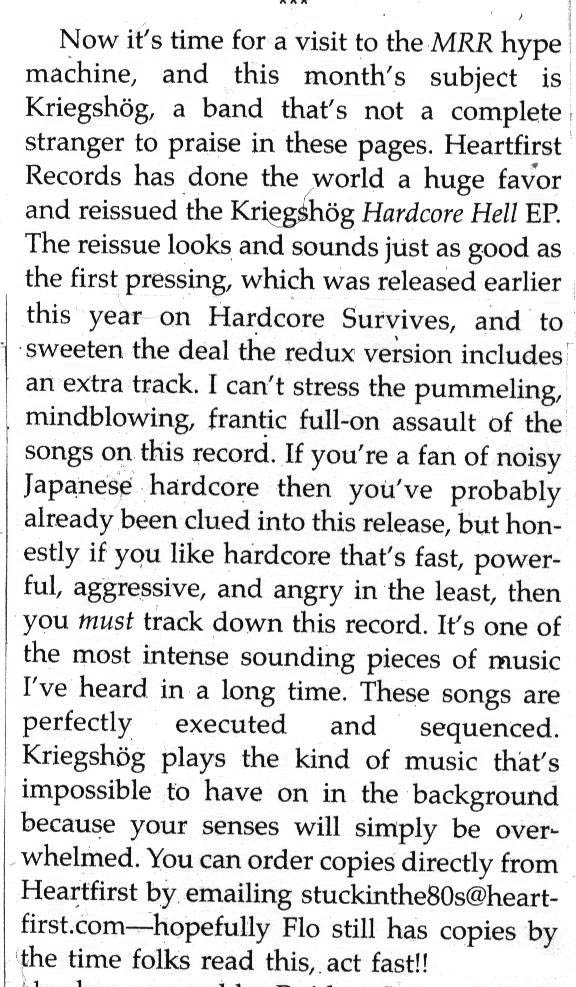 News November08: The KRIEGSHÖG-EP came out in early November and I am almost out of the first 1000 copies. There are some left for mailorder. Unfortunately I had to raise the prices for HeartFirst releases to 3.50 Euros per 7". Generally costs are constantly going up and production costs for records are no exception. Generally I find vinyl records still extremely cheap compared to other goods that we buy. Since people with good musical taste usually have little disposable income, that's the way it should be. Especially compared to vinyl prices in other Eurospean countries 3.50 Euross for a quality 7" is still reasonable. As a little workaround I am offering the old price if you order three copies of HeartFirst EPs (you can mix). So that's 9 Euross for three. I have some more copies of the first KORT PROSESS CD which originally came out in 1995. It compiles their long sold-out first two EPs and three more songs, 18 in total. Price is only 4 Euross each.

news juni08: i still have a few copies of the first press of sex vid - nests 7" and shortly i will receive a batch of the new releases on no way and grave mistake. the next release on heartfirst after a break of over two years will be the new killer band from tokyo named kriegshog. their debut 7" "hardcore hell" was released in early 2008 in an edition of 500 on the great new tokyo label hardcore survives. it sold out with the quickness before one could even say "play loud and die". the re-release will come in new artwork and with an additional song from the limited two song tape. the holiday season is coming up and it's time to travel: solid decline will be touring the usa and the now-denial are heading out to japan.

news april08: since i was too lazy to translate the updates for quite some time, there is shitloads of awesome new(ish) stuff in the mailorder, e.g. punch in the face lp, reagan ss lp, new henry fiat's open sore lp and i also scored some of the us version of the boxed in lp on lengua armada which comes in a screen printed cover. speaking of screen printed covers, you need the ruidosa inmunidicia/solid decline split lp and the köpi-compilation lp which both have great looking (and smelling) covers.
note: the mailorder will be closed for holidays between 20 april and 15 may.

news december07: the year is almost over and brought many great releases by local german bands. i strongly recommend you pick up the new (2nd) bombenalarm lp, new now-denial-lp, chainbreaker-lp and the awesome sniffing glue-lp which caught me totally off guard. killer stuff. you should appreciate these hits, even if you are from a country where these days people have no clue about punk music, like england. also highly recommended are the lp by autistic youth on jonny cat and their new 7" on black water. a sure hit for fans of observers, red dons or old cali-punk.
news october07: i redesigned this site a little. it is now 2% more user friendly. there still is no webshop with cart and paypal and shit and why should there? i hope you like it, if now, you can tell yo momma. i will change the navigation on the mailorder pages so the pages run longer.
news september07: burial are back from japan and had a blast of course. unfortunately the timing was not the best since many band members of japanese bands were either dead, in jail or in hospital at the time. the country also suffered under a record heat which is not good when at the same time the humidity is around 120%. but what can you do? kids, you gotta buy the damn out of vogue photo book, ok? it makes up for missing the great bands in germany of the last 5 or 6 years, or if you didn't miss them but didn't bring a camera, you need it, too. solid decline recorded new songs for their split lp with ruidosa inmundicia. two of the best Eurospean bands at the moment for sure. pick up their amazing ep before it's too late. i think i sold 10% of the pressing through my mailorder. new goodies in the mailorder: i unearthed another box of the romantic gorilla 7" from 1995, don't snooze cuz they are selling fast. other old junk from the vault is the Eurospean press of the classic th'inbred "family affair" lp on bonzen, it also contains their amazing "reproduction" ep from back in the day. other junk that's worth your hard earned cash are the releases on the quality deaf forever label outta finland, eg. the awesome first kakka-hätä-77 ep, they also have another ep out on combat rock industry, the new ep by alligators (roger of agnostic front with guys that were in insted, ltd. 500 on indecision), the chainbreaker lp in a mindblowing screen printed cover and the great the horror/war all the time split 7". the horror are also mindblowing live and war all the time are slightly modified boxed in, so they are quality, too.
news june07: wow, again it took me ages to update this website. well, it's summer and a lot is going on. so i got better things to do than sit in front of the computer. the so much hate lp is selling very well, the copies with the booklet are gone but the release will be in print for a long time. there is a burial cd out in japan on hg fact with songs from both eps und two sampler hits. in ugust burial will be touring japan together with nightmare, in time for the tour there will be a compilation (some call it three-way-split) of the two and crude. the two new burial songs are total destroyers. new in the mailorder section are new lps from norway: kolokol, summon the crows, i.o.u., siste dagers helvete and barn av regnbuen. totally mandatory is the second lp by bombenalarm "no mistakes", and the severed head of state "power hazard" 12". also new is the killer ep on no way records by acid reflux.
news march07: the first release on the sub-label norwegian leather is out: the re-release of so much hate's - "how we feel" lp which originally came out on x-port-plater from oslo in 1987. the record looks like the original but the cover is black/white as the original artwork was colored afterwards. the lyric sheet is exactly like the original. the first pressing of 1000 comes with an 8-page-fanzine with old interviews and liner notes by long time friends of the band. unfortunately postage for one lp is very pricey. to Eurospe it's 4,50 Euross and 8 Euross to the USA, japan, australia etc. if you add 1-2 7"s to your order from the heartfirst-mailorder it might make your order more efficient. There also are a bunch of restocks in the mailorder section like some grave mistake 7"s and the betongbarn 7". new lps are in by situations from berlin and cobra noir from montreal.
news january07: happy new year and all that! the norwegian reissues keep me busy. the so much hate is all done but the fanzine is still not layouted and the screenprinted cover version needs to be done. release date should be in early february. new stuff in the mailorder are 7"s by ritual and bomberegn (this is the last kicknpunch record).
news december06: i made a new batch of burial shirts, sizes S, M, L are available for 9 Euros. they got the sugi design from the last ep. there are news on the norwegian leather-front: the so much hate - how we feel lp-re-release will be out in late january. vinyl and covers are at the plant but the lyric sheet and the fanzine that comes with the record still need to be done. especially the fanzine turned out to be a lot of work, it will contain infos, old interviews about the band etc. the bannlyst lp will be mastered and cut in early december, depending on the sales of the so much hate lp, this will come out around april 2007.
news october06: new top hits in the mailorder section: ruidosa immundicia 7" on thought crime!!! both recent fucked up 7"s, also very recommended is the death token split 7". new outta norway is the four song ep by betongbarn 7" on nakkeskudd. i have now installed an own news section in the mailorder part of the website for your consuming needs.
news september06: the reviews from mrr are finally in for the burial and the solid decline releases, they are in issue no. 280. both are great of course, i am especially surprised by the expertise shown in the review of the sd-release! check them out here. they also played one song each from the new releases on the mrr radio show. a new section for rare and pricey records was added to the mailorder section. you can check it out and see which records you should have ordered at a normal price two years ago. unfortunately i will not be getting dicks 7"s to distribute because the label is too stupid to pack the packet. sorry. but i will be getting both new(ish) fucked up 7"s "dangerous fumes" and "triumph of life" (us version) in late september. my old friends alice donut will have a record release party for their new cd "fuzz" which also marks the 20th anniversary of the band on october 21st at the knitting factory in nyc. Yeeeehaw!
news august06: the burial-shirts are almost sold out, so if you want one, be sure to order it fast. the burial "hungry wolves" ep is selling great, even before there really are reviews of it. the 2nd press of 500 is pretty much gone, too. new goody in the mailorder section is the look back and laugh 7" on deranged. on the way are: koro 700 club 7" re-issue and new dicks 7"!!!!
news juli06: things are moving fast. the review of the deutschland in decline compilation from short, fast + loud zine just came in. it's raving (just like the mrr one) -- check it out here. if you like hardcore punk, you're doing yourself a favor if you pick it up. same goes for the new solid decline and burial releases. reviews of those are in the works. we have burial shirts for the true fans abroad. it's the sugi design like the new ep but with an additional colour.
news june06: the new burial 7" entitled "hungry wolves" is out now as well as solid decline 2 x 7" called "adorning the void". the solid decline double platter comes in a screenprinted foldout cover and is limited to 750 pieces. the mailorder has some new hits: young wasteners 7", tristess 7", skitkids 7", formaldehyde junkies - first 7" and the breaks 7" and the new releases on lengua armada.
news may06: heartfirst is closed for vacation until the middle of april. after that the new records should be out, maybe.
news april06: we are working hard on the upcoming releases, the burial and solid decline. you can find some first drafts of the cover designs below. release time should be middle of may. the mrr-review for the deutschland in decline compilation is in and it's great. you can find it here.
news march06: i have build a myspace page which you can find here. myspace is horrible, counter revolutionary crap. i hate it, half the day i spend refusing friend requests by people i don't know. but i hear it boosts record sales very much. we'll see. this website will always be more up-to-date than the myspace thingy.
news february06: alright, the fifth burial-song from the heartfirst session is supposed to go on the second mrr compilation which should see the light of day in a few months. it's hard to keep track. the mrr-hq is not in control all the time. the burial "hungry wolves" 7" ep will get mastered in late february and the artwork master is on the case at his desk in japan. the solid decline double ep will be titled "adorning the void". highly trained international artists are working on this cover as well. both records will be out in the spring. watch this space for more details as they become available. boxed in are working on their discography cd. needless to say, you need the vinyls if you don't want to be laughed at. also i doubt that the cd will have as much of a smell as the screenprinted ep cover has.
news january06: the year started decently and there are lotsa things to do. good news is that the german post lowered some postage rates which makes it more affordable to send records abroad, esp. if you are ordering a bunch of 7"s together. also airmail surcharge is not necessary anymore since most letters go by airmail anyway between continents -- good! burial just came back from the studio where they laid down five new tracks which are some of their best to date. four are going to go on a new 7" on heartfirst which should come out together with the solid decline 2 x 7" in early april. there are some new records in the mailorder section, so have a look and take advantage of the new postage rates. my friend jakob from copenhagen is booking a tour for nightmare from osaka, japan. you can find the dates here. as usual for a japanese band, this is a rather short tour.
news december05: the year is almost over and there is not much going on, especially on the gig-front. this gives me time to hang out at home and do nothing. great. there have been some really good reviews fo the deutschland in decline-compilation which you can find here. if you buy one compilation with all german bands that came out after the 80s, this should be the one. the solid decline double-ep is still in the works but will take us some months into the year 2006. burial will record their new ep for heartfirst in late january, together with one song for the mrr-compilation. burial are the only german band that was asked to join the compilation. nightmare from japan are planning to tour Eurospe in june 2006, the exact dates have not been fixed yet. new goodies in the mailorder are: amen 81 - the hit pit lp, 2:20 from oslo, norway with a 12" on sjakk matt the label that brought you infamy and kolokol 7"s in the past. 2:20 sound a lot like captain not responsible, they have the same singer and same drummer, but different guitarrist yet they sound unmistakingly norwegian. the norwegian band hevn also want to tour next march. they have robin ex kort prosess on bass and kjetil from summon the crows on one guitar. hevn are one of the hot new diy-bands in oslo at the moment and their start is pretty promising. they have a website with some mp3s here: http://www.rlh.no/hevn/. just out (finally!!!) is the doomtown lp with the fitting title "forever fucked". if you like hardcore punk you need this record, if you don't like that stuff, you can leave this website rightaway, for example by going here. solid decline went to the uk and had a great time. thank you very much to uncle sned who set it all up and did a superb job. happy easter!
news october05: the deutschland in decline compilation 7" is out. to say it turned out good would be an understatement. i am very proud and you should check it out. the songs are all unreleased. more info can be found here.
news august05: toamol and boxed in are selling fast. the toamol 2 x 7" is limited to 550, so don't snooze! the epic deutschland in decline-compilation 7" has been mastered and will be out in early october. i will be on holiday in norway between august 13th and 21st.
news july05: the 15 years heartfirst anniversary gigs were awesome. thanks so much to the bands and everyone who showed up!!! the two new releases boxed in and toamol are available for mailorder and wholesale. both records look awesome and come in great screenprinted covers. also the lineup for the deutschland in decline compilation is confirmed, it's gonna be all unreleased stuff by current german bands like amen 81, bombenalarm, burial, chainbreaker, doomtown, now-denial and solid decline. this should be finished in early october and there will be some record release gigs. there are also some great new german records in the mailorder, burial lp, mönster lp, lost world lp, bombenalarm lp, perth express 10" and the turn it down compilation lp.
news june05: lotsa things going on here, first of all the anniversary tour and there are two new hits in the works. here is the status: toamol -- records are pressed, covers will be printed in the next days. boxed in -- test pressings have been approved, covers will be printed in the next days. both covers will be foldout, screenprinted and great looking.
news april05: the boxed in-songs are back from mastering. sounds sweet! eight minutes of fast hc punk without mercy -- six originals and the boys are also butchering a kafka prosess-song. no crust, no blast beats, no samples, no music for hipsters but the kind of band that heartfirst was started for 15 friggin' years ago. hammer! things are progressing nicely and the disc should be out in june in time for the heartfirst anniversary gigs. there finally was a review of the solid decline ep in maximum rocknroll. of course it's good as you can check out here. i uploaded two songs from the toamol record in the mp3-area for you to test.
news march05: the taomol-recordings have to be remastered, oh well. the record will not be out before late may. in the meantime the band will record for a split 7" with the amazing norwegian band kolokol, each band will have three songs. it is undecided when this release will be out and who is gonna put it out. boxed in did record seven songs with bri/doom in february, will mix the thing in early march so the release should be coming out together with the toamol double 7" in the summer. in the middle of june there will be some heartfirst 15 year anniversary festivals in northern germany. more details will be announced here as soon as they are confirmed.
news february05: oh man, it's already the middle of february and there is nothing new to report i guess.
news january05: the year 2005 will be a busy and exciting one for the label. it marks the 15th anniversary of the label by the way. up next in the spring is a double 7" by toamol from norway. toamol consists of members of kort prosess and alltid jaget and the release will have eight songs. the vinyl has been mastered and i am waiting for the test pressings. the artwork will be done by robin ex-kort prosess, if you know old kort prosess artwork you know it will be amazing. so it's gonna be a total family project done by old friends. after that there will be the third 7" ep by boxed in, the first englisch band on heartfirst. they are pretty much ready to enter the studio and will record eight or nine songs. planned for the summer is something new by solid decline and the deutschland in decline compilation.
news x-mas: heartfirst is closed until 3rd january. orders placed during that time will be shipped out in early january. the german post will raise its rates (again) on january 1st. boohoo.... so i wish you all the best for 2005!
news december04: oh, it's x-mas season again and i do not care at all. but i got some suggestions for presents for your loved ones for you: fourteen or fight/the repos split 7" on gloom, restocks of the dropdead/look back and laugh and dropdead/totalitär split 7"s. a special tip is the 7" by the cleveland band the dead hate the living 4 song 7". new on malfunction are the new piece by piece 7" "we've lost our minds" and the right on 7". classic Eurospean punk brings the new enola gay (denmark) "1982-1984" lp on kick'n'punch. 2005 will be a busy year for heartfirst, so far there are four new releases planned, stay tuned for more infos right here in the beginning of the new year. cheers.
news november04: it is fall and there are many concerts happening at the moment. i saw the spermbirds for the first time in 15 years. they had the nerve to play ca. 55% new songs, tsts. but the old hits still rocked, even though lee was not always up to speed. "playboy subscriber" was missing. a hammer live were ekkaia from spain, they were more portland than most portland bands, but amazing energy live so i did not mind the shameless copying of a popular style. the heartfirst mailorder has two of the best Eurospean releases in a while, the boxed in lp (from the uk) and the new now-denial lp (from germany), which is great -- much better than their first one. buy or don't!! totally like now-denial sounds the new cursed (canada) 7" single (ex-ruination etc, they had a great lp out on deathwish which was very atypical for deathwish), at least side a. on the other side there is a very good stooges cover ("search & destroy"). they will tour Eurospe in early 2005.
news october04: wasssup? fall is up! the label is moving very slowly but there are some great new records in the mailorder part: boxed in lp on crime scene. the us version will come out a little later on lengua armada. the boys (ex-ebola, embittered, doom etc.) already have two hammer-7" eps under their belts and their next 7" will come out on heartfirst. tragatello lp on lengua armada, burial 7", bombenalarm 7" -- germany has got some rocking bands again. dropdead/look back and laugh split 7" which is a total hammer and i have a restock of the tragedy/totalitär split 7". also available is the 2nd sleeper cell 7" auf partners in crime with six more songs from the same session as their first ep and from california come the piece by piece/donnybrook split 7" and the donnybrook 7" on 1917 records for those who like their records with mosh parts and muscles. sol. solid decline made stylish t-shirts with a slightly varied 7" design, white print on black. they will play on this years dreschfest on 23rd october in mannheim/germany together with a lot of bands, incl. the veterans seein' red, more infos here.
toamol from norway are in the studio recording their debut plater for heartfirst. since they have their own studio it is only a matter of months until they finish the session. i can tell you it's gonna be worth the wait for sure. i saw from ashes rise on their Euros tour twice and they rocked really hard, go and see them! i wish people would stop yapping about them being on jade tree. you can get the vinyl on havoc now if you prefer that. if you think that felix havoc is a sexist pig, it's right back to the jade tree cd version i guess. other great touring bands to see at the moment are the rites, cut the shit, dfa and municipal waste.
news september04: solid decline are back from scandinavia and will be playing some gigs in germany but why would you care cuz it's not in your area. new killer stuff in the mailorder section are the sleeper cell debut-ep on cries of pain with 6 hits a la deathreat, balance of terror with some japan-influence mixed in. a great band which now has a 2nd ep from the same recording session on partners in crime and they fit really well on that quality label. other records in the mailorder from cries of pain-label are the etae (japan) 7", exhale/diallo split 7" and the holokaust/dissystema split 7".
news august04: i am too lazy to do a real update, sorry. the summer is good so far, yeah. new in the mailorder section is the terror - demo 7" and i also have restocks of the great my war-records knife fight and street trash. also new are conga fury/the nitz split 7" and the out of vogue/hit me back split 7" these are sure to sell out quick, so don't snooze. see ya....
news juli04: it's the summer break but a lot of good gigs and tours are happening. solid decline will tour scandinavia in late july, they will also appear on this year's puntala-festival in finland. this should be one of the biggest diy-festivals in Eurospe this year. it will also be the festival with the highest alcohol intake world wide. more infos about bands etc. you can find here. boxed in are touring the uk together with knifed from dublin, the Eurospean version of the great boxed in-lp should be ready in time for the tour. you can find the tour dates in the tour part of this website. toamol from norway are almost done with their recordings and will now mix it for some time and start with the artwork. toamol will play with solid decline in oslo on their tour. you can find an interview with dan (bassist, ex-kort prosess) here, of course it's all in norwegian. new hits in the mailorder include some killer split 7"s by los crudos/mk ultra on lengua armada, the fucked up/haymaker split 7" on deep six and the internal affairs/allegiance split 7" on malfunction/rival. also new is the disrespect 7" ep on profane existence with cool uk 82 punkrock and great fold out cover artwork, they are ex-misery, civil disobedience, pissed and have three singers, two male and one female.
news june04: ronny reagan died alright. the Eurospean football championship is happening and i'm hoping for some good games, this means that the german team will be kicked out fast cuz they suck. some good heartfirst bands are playing live, check them out! my friends alice donut are playing in Eurospe, the dates are:

romantic gorilla will be playing a reunion show at the 20000V in koenji in tokyo with no redeeming social value from nyc, be there if you're in the area. the complete lineup is:
07/11(sun) 東京 高円寺 20000volt
NO REDEEMING SOCIAL VALUE
STRIKE OUT
SAIGAN TERROR
NUMB
ROMANTIC GORILLA
STINGER...etc
adv\2500 / day\2800
open 18:00 / start 18:30

news may04: the solid decline record has been out for two months now and is selling well despite the fact that there have not been any reviews in the fanzines yet. solid decline will do a scandinavian tour in june/july (mainly sweden and finland). my little trip to the usa was great fun. i met many old friends and got to know some new ones. minneapolis was challenging, private dance parties and thrash fest 5. my favourite bands amongst those i saw were caustic christ, any last words and from ashes rise. also misery rocked very hard at trash fest (which took place the night after thrash fest). wolfbrigade were pretty okay, but not good enough to fly them in for two shows (they even made tour shirts for those two shows -- how ridiculous is that?). vitamin x were pretty boring and mediocre. it's kinda funny to see how some not very exciting Euros bands can be so big in north america these days. the next release on heartfirst will be an ep by toamol from norway. toamol consist of ex-members of kort prosess, alltid jaget and statens menn. so if you know about norwegian hardcore of the 90s you know this will be grood. you can find three songs from the toamol-demo here. the website is all in norwegian, "last" means that you can download the songs to your harddisk and "lytt" starts streaming the songs to your mp3-player. new in the mailorder part of this website is the summon the crows 7" on the brand new nakkeskudd-label. summon the crows are also ex-alltid jaget and statens menn. they play a mix of norwegian hardcore and death metal.
news april04: i went to oslo for some days and had a blast. i met many old and not so old friends and saw a great concert. it was the record release party of summon the crows, but in true punkrock tradition the release was not ready for the gig because the pressing plant took longer than expected. heard that story before. summon the crows are ex-alltid jaget and statens menn. check out their website here to find out when the release is finally out. also playing that gig at the legendary blitz were the new band toamol, who are amazing. they are ex-alltid jaget and statens menn, their bassist used to be in kort prosess. so experts know that they can only be good. they have released an absolutely ruling 4 song demo. you can check out a review of the gig here including some pictures -- of course it's all in norwegian language. the reviewer found summon the crows to be too much metal and preferred toamol, i'd have to agree with that though STC are my friends. back to germany: just out is the solid decline/strong intention split 7" on vendetta. the platter brings three more solid decline hits from their 7" session and four pretty sick metal songs from strong intention. back to oslo: another promising new band from oslo are diediedie, with ex- and current members of jin'rik'sha', jr ewing and two zillion other bands. click here to go to their website and check them out. some new hits in the mailorder: street trash - five dirty fingers 7" on my war records, e150/intensity split 7" on thought crime. from germany we have altenburg 76 7" and the altenburg 76/atlas lanze split 7". there is some more stuff coming in soon. so stay tuned.
news middle of march04: ah -- springtime is coming. there is a bunch of cool new records in the mailorder section: some more of the first knife fight 7" and the violent minds 7", both on my war. knife fight will be touring Eurospe starting in late may, they are ex-life's halt and holier than thou. violent minds are from canada and are even better. kylesa - no ending/a 100° heat index 7" on prank, comes in great looking pushead-artwork foil stamped and on coloured wax, from the same session comes kylesa - delusion on fire/clutches 7" on scorched earth policy, one song is a nausea cover version, very fitting. haymaker - fuck america 7", the repress of their limited 7", this time on red wax on deranged. forward to death - the hourglass ep 7" has 8 songs, forward to death are a follow up band of tear it up and they sound like a more varied version of tear it up, very good vocals. on the great controlled by plague label from san francisco that brought us the awesome deadfall ep, we have two more burners, a 3 song 7" ep by funeral shock playing angry early-80s-ami-hc. they are from the bay area and have an ex-spazz member but sound very different (luckily). also new is the debut of case of emergency, also hailing from the bay area with a mix of us-hc and japcore. so far you can blindly buy all releases on controlled by plague if you dig rough old us hardcore punk. deadfall now have their first lp out on 6 weeks which i have not heard yet.
news march04: the solid decline - back in line 7" is out now. the band is ex Y from berlin whom you should know since they had been going for 9 years. they are actually 100% Y members but decided to change their name because they have changed their musical style -- respect! i think they are much better now, they kicked out the blastbeats and the annoying samples that they had on their earlier records. it's 100% killer hardcore now, powerful and fast but not too fast. this is the first berlin band on heartfirst and it turned out killer all around, i am really proud of it. it was recorded at the semi-legendary kuschelrock studio in bremen. thanks to your friend olli it has amazing screenprinted cover artwork. in my opinion it is the best international hardcore punk record outta berlin since the combat not conform 12". now if that does not tell you anything.... oh well, you can test drive two songs here in the mp3 part of this website. coming in the middle of march should be the split 7" of solid decline and strong intention from the us of a on vendetta. also new in the mailorder section is the amazing kolokol - tilbake til start 7" on sjakk matt with 6 songs. amazing norwegian hardcore punk like in the old x-port plater days.
news january: i have finally survived the year 2003. in 2004 everything will be alright. yeah right! until the release of the solid decline ep some time in late january or early february heartfirst records will be pretty much a one product company. for older heartfirst releases try ebay or your local $1/EUR1 bins. the following goodies are new in the mailorder section: diavolo rosso - never follow... lp, the fourth world burns to death 7" called no dawn comes..., warcry - havest of death 7" (todd of tragedy and brad of from ashes rise playing discharge), ausgebombt 12" from portland (members of blood spit nights and hellshock), the hard to find suicide file/r'n'r split 7" with neat mike bukowski artwork and a restock of the classic histeria 1-compilation on lengua armada. the 2nd edition of the compilation has also arrived and it's killer again of course. also new is the caustic christ/intense youth split 7" and the intense youth 7" EP.
news december: the solid decline-platter is almost done, test pressings have arrived and we are busy with the cover artwork. the songs are killer and so will be the artwork. you can check out two songs in the MP3 section. heartfirst will be closed between 18th december and 7th january, so there will be no answers to mails and no mailorder. happy easter!
news november03: solid decline (ex Y) just came back from the studio (the legendary kuschelrock in bremen) and have recorded six smashers for their heartfirst ep which will be called "back in line" and three more for a split 7" with strong intention on vendetta mob. the band is currently working on the artwork. all that junk should be out in early january, the split might come out a little earlier. solid decline is the most japanese sounding band i have ever heard outta germany. but not a ripoff in a selfish-way instead with original twists and turns. one of the best german bands in the last coupla years.
news october03: i am developing a fall-depression oh well. lots of good concerts going on luckily. born dead icons are on tour with the great but underrated french band la fraction in the land of the free right now. if they come to your burg, you should not miss those two bands which are very different style-wise yet both awesome live bands. they both also know how to drink. new shit for the mailorder is the great 6 song ep by infamy from oslo, norway on the new label sjakk matt. they consisted of jin'rik'sha' members, swapping instruments. the record took almost 3 years to come out, so the band is long gone. other new goodies at the mailorder are the monumental from ashes rise/victims split lp on havoc with pushead artwork, internal affairs 7" (malfunction), henry fiat's open sore - patmos or bust 7" and the 2nd some girls 7" (deathwish), additionally i have the recent goodies on busted heads like rambo/caustic christ 7", artimus pyle/diallo split 7" and the re-release of the classic razor's edge 7" (from japan). new on the great thought crime label is the cementerio shöw/l'amico di martucci split 7". total killer releases are the first two eps by weaving the deathbag 7"s with 6 songs each. awesome midwest hardcore, this has to be the most underrated band from north america right now. they just have a new 7" out on kangaroo. i also managed to get the great first punch in the face 7" on lengua armada back in stock. 10 songs early-80s-ripper from chicago with ex-members of charles bronson and dearborn ss. this record was really hard to get in Eurospe. so here is your chance. have a nice day!
news august03: i could be talking about the hot weather in Eurospe but i won't. there are new hits available from the heartfirst mailorder: knife fight - 11 song 7" on my war, amendment 18 - defining the color conviction 7" on organized crime, artimus pyle - inheritance 7" on flowerviolence, which was released for their Euros tour in 2003, also a tour ep is the holier than thou? - we come in peace, we leave in pieces 7" which was recorded together with their one sided 12" on deranged. then there are three more rippers on partners in crime which is the hardcore punk label with the most solid quality at the moment: deathreat - consider it war lp, d.s.b. (japan) - pure cultivation 7", gouka (auch japan) - chaos 7", from germany we have the awesome my own lies - sounds like an accident 7" on hombre lobo and no idea records brings planes mistaken for stars - spearheading the sin movement 7", ruination - dead horse 7", trapdoor fucking exit (from sweden) - devil's egg 7". finally here is the Eurospean 7" by world burns to death - acid in the face of human rights 7" on the finnish label fight. the next release on heartfirst will be the 7" ep by the follow up band of german highspeed veterans Y, who changed their style and also their name, the disk should be out around the new year. it's not easy to find a band name these days, so we'll keep you posted as soon as it's fixed. also don't forget to check out the upcoming tours after the summer break like 9 shocks terror and tragedy.
news july03: it's been a very hot and sunny spring and there are many good gigs going on, beautiful! also the mailorder has some hot new disks: the now-denial/highscore split 7" (two of the best german hardcore punk bands at the moment on one record, you need it!), what happens next? - Euros trash tour 2003 7", world burns to death - the art of self-destruction 7" and the nitz 8 song 7" (bay area band on reptilian which had an awesome review in MRR a while ago). i also have some more copies of the ohuzaru (killer italian hc) - thrash is business 4 song 5". heartfirst will be on holiday between july 10 th and 30th. during that period no orders will be sent out and emails will not get answered. after my return orders will be filled in a first-come-first-serve basis.
news june03: the born dead icons ep is selling well. i got rid of the first press almost before there were any reviews in the zines, a repress is available now. the next MRR (#242) should have a (hopefully good) review. also the new full length "ruins" is finally out on vinyl and you can order it from ebullition. i went to oslo for some days and there are some good things going on there. i saw turbonegro at spectrum which is the biggest place in oslo, i also saw alice cooper there ca. 1992, haha. it was not as full as some people expected but the boys still rocked. they brought this old school norwegian magician tore torell on stage with them. there are some good newish hc-bands going in oslo. summon the crows are back together (allitd jaget and statens menn members), a great new band is going under, they have members of jin'rik'sha', infamy and their singer is the man who runs the up-and-coming sjakk matt label which is about to finally put out the awesome infamy 6 song 7" which has been in the works for some years now. going under are heading into the studio to record a demo real soon. there is also talk of a new band with jin'rik'sha' and jr ewing members. also drunk (ex so much hate, ex life....) have just recorded their first full-length.
news may03: i was in japan for some weeks in april. had a blast, it's been 11 years since i last went there. i will be back soon for sure! the big news is that there is a new release on heartfirst, it's been 3 years since the last one so you know it's quality before quantity. i am psyched to release the new 7" by born dead icons from canada called "unlearn". three fast songs and an instrumental on this piece of plastic. these hits were recorded together with their new lp/cd "ruins" on feral ward. unless you've been living under a rock or in a bagdad bunker for some years you should know them by now. they have 3 lps out and 3 7"s plus a 10". they are one of the best live bands outta north america in some years. so if you know them, you know you need the record. if you don't know them yet, this might be the place to start.
news late march03: fucking war is here. 'copters crashing, american patriot missiles downing british tornado jets, american soldiers throwing handgrenades into their officers' tent. what's wrong with the allied forces? heartfirst will be closed until april 15th. thank you.
news march03: sorry, this website was down for almost two weeks because my old provider went out of business. the site still worked for almost one month after that but suddenly the fun was over so i was forced to switch pronto. now everything should work smoothly again. the most exciting news is a new release coming up on heartfirst records (beat 034). it is a rocking new 4 song 7" by the mighty born dead icons from canada. the baby will be called "unlearn" and is scheduled for release in early may. it was recorded together with their new lp/cd entitled "ruins" which is coming out soon on feral ward a.k.a. the label formerly known as the great american steak religion. the band will be on tour in Eurospe from the middle of march for two months. if you want to do yourself a favour, get all their records and see them live, they are one of the best live bands i have seen in many years. more infos will be posted on this website soon, incl. new mp3s and the tourdates. the mailorder also has new hits for sale, for example the killer deadfall (san francisco) 8 song 7" on controlled by plague, the piece by piece - "written in blood" 6 song 7" on takeover records and the new worn thin - "remnants of what could have been" 6 song 7" on youngblood.
news february03: no positive news this year so far. more later. IMPORTANT: my internet provider is filing for bankruptcy. this might lead to this website and all @heartfirst.net mail addresses being temporarily down. this is not gonna be for long though. if it comes to this, you can direct mails to info@heartfirstrecords.com. but hey -- as long as you can read this, everything is fine.
news january03: heartfirst is back in action in 2003. of course everything will be getting much better for everyone in '03! last year was pretty shit for almost everyone i know. between x-mas and the new year i spent some time in my hometown berlin which was killer. i did have great food, saw some good bands live and met tons of friends. gigs: the portland clones asebia from denmark/sweden with kontrovers members were good but not as good as on record which i have back in stock by the way. also good live were the young wasteners from copenhagen, denmark. they play awesome early 80s CA-style punkrock influenced by bands like -- you guessed it -- wasted youth, mixed with english 77-style punk. check out their lp on kick'n'punch. they played together with lokum who have members of other copenhagen bands like amdi petersens armé but they were weak. also new in is the the disaster lp on assault records and a new scarlet letter 7", also on assault. assault is the new hardcore label run by markus of per koro and jan of sentient distribution. i also have the two great 7"s on the western front label back in stock, they're not gonna last long.
news late december02: i finally did the right thing: you can now find some MP3s on the website, go here to check out how great those bands really are. this section will be expanded in the near future. i will be gone away until january 7th but i will be reading my mails. you can mailorder stuff but i cannot send it until then. there will also be a bunch of new stuff in the mailorder in january. also the year 2003 will finally bring new releases on heartfirst recordings.
news december02: i finally got to see the great finnish band manifesto jukebox on my little trip to hamburg. they played with turbostaat who also rocked. both bands are great musically and very nice people personally. it was great to see that the place was packed, most people came to see turbostaat. there was some nice streetfighting going on after the gig with some cops from berlin. made me feel like home. this time the heartfirst mailorder has some new hits and much classic german stuff back in, like the brandnew oma hans lp, angeschissen discography double lp, turbostaat lp, the first 3 ...but alive lps. since you probably don't know any german you will pass those by -- your loss. besides that i have the dropdead/totalitär split 7" on prank, the killer world burns to death lp (severed head of state and from ashes rise personnel) und the amazing terror 2 song 7" on takeover. terror from southern california are the new hype in hardcoreland, they have a 9 song 12" coming out on bridge 9. they are as good as people say, remind me of integrity minus the guitar wanking.
news november02: howzit going? i hope you don't freeze your ass off -- wherever you are. the berlin punk rock compilation on weird system is finally out, covering berlin punk rock between 1977 und 1989 (the year the wall fell). it's a double lp/cd with 44 songs in total. 99% of the hits have already been released but for the masses who do not have the obscure originals it's a great history lesson. the vinyl version comes with a 72 page booklet with lots of historical background information, family tree and a discography, partly written by yours truly. unfortunately it is all in german language except a small page for foreigners. the heartfirst mailorder has some great new stuff for you to consume: the now-denial lp, asebia lp. both are the best Eurospean bands that play the portland/memphis style without being idiots and total ripoffs. the now-denial are from germany and had a split with seein' red a while ago where they blew away the old dutch folks, asebia have members from denmark and sweden incl. jakob who co-runs the great kick'n'punch label. i also have the most recent totalitär 7", other new goodies on the mailorder some girls 7", suicide file/hope conspiracy split 7" on deathwish inc. and two cooking disks from the new-ish us label western front by ammunition and outbreak. recently the old time guitarrist of italian legends raw power died which caused quite a bit of grief amongst fans all over the web, esp. in the us of a. it's great that finally their first lp has been re-released on cd. for most old fans in germany raw power's suckiness became clear on their first tour in 1986 where they behaved like rockstars while being good musically. later even the 2nd part changed for the worse. they were never really part of the italian hc scene from what i saw, so r.i.p. time to find some good new italian bands that really mean it. speaking of old bands, the jurassic dutch band lärm is going to do two reunion shows. and while they sucked the first time i saw them in 88 they are cool people and can be expected to be good now after all those years with seein' red.
news october02: summer is definitely over and down here it's raining almost every day and the streets are full of drunk idiots because it is oktoberfest time here in munich. last weekend luckily that conservative deadbeat stoiber did not get elected at the german general elections. it was pretty close though, just by 10.000 votes. there were some cool anti us government statements that cost the secretary of justice her job. way to go. but it's getting hard to tell the truth in public, even over here in germany. of course in the us it's even worse. saw a few good gigs lately, converge from boston were pretty intense and the great german punkrock band turbostaat also played. they are probably the better dackelblut, nice people and awesome live and on record. they will also go on tour with the kicking punk rock band manifesto jukebox from finland who now have a new lp ou on better youth. in early october the berlin punkrock compilation on weird system should see the day of light. it covers punk rock from berlin between 1978 and 1989 (when the wall came down). it's a double lp and double cd. there were two limited 7" compilations before that entitled berlin frisbee #01 and #02. i updated some mailorder lists on this website cuz i found some records (old shit of course) that were not on the list anymore for some reason. so happy shopping!
news august/september02: it's summer and not much is going on around here. went to oslo again, the wild rockers of gluecifer are now on the labels of the 1.5 liter sprite bottle in norway -- wow! some nerd made another septic death boot called "attention". you can save your pennies and wait for the official re-release of the hits on heartfirst und prank which are gonna come out sooner or later. fuck the bootleggers! speaking of septic death -- lately there are lots of cool record covers by pushead out there: kylesa 7" and lp on prank, the haymaker lp on deranged and the stompede 7" on badman. all those records don't just have great covers but also killer tunes.
news july02: got some copies of the new severed head of state 7" called "no love lost" on ebullition. it has 4 songs incl. a cover of "prayer" by the mighty corrosion of conformity. i also got myself a personal copy of the insane ruination shaped 7" on youth attack! records that is more 10" size. it comes in a 10" cover, is clear vinyl and has the shape of the usa. it's a remix of their first 7" that is pretty impossible to find these days. i am not selling this record over the internet, so i suggest you find it somewhere else. ebullition has some copies. heartfirst will be on the road pretty much all the time between july 10th and 30th so communication will be slow during that time. have a nice summer!
news june02: spring has (almost) really started. there are lotsa gigs and festivals, good reasons to sit outside and drink some beers or to go to some protests. good bands lately were: books lie from nyc, the black hand from montreal (who had their van and equipment stolen in budapest and had to end their tour because of that), flamingo massacres and especially the now-denial who are the first german band which has got the new portland sound down. they have a very good split out with seein' red which you can get here. i will start a newletter with heartfirst and personal news. you can subscribe by sending an email.
news may02: oslo was a blast. met almost all my old friends and the gigs were great, too. highlight was the first (and last) life... but how to live it? concert in ten years. the blitz was packed to the roof (around 400 people) and i heard that around 300 people had to be turned away.
news april02: i will go to oslo for a week for the 20th anniversary of blitz around may 1st, so don't expect any communication until may 7th. it should be lotsa fun! new shit at the mailorder is a bunch more of the weird system re-releases, the awesome new tragedy 7", limp wrist lp, kurt - 3rd lp and the behind enemy lines lp (ex aus-rotten). lately i saw some smart people buy heartfirst releases like dackelblut and strain on german ebay for more than what they would pay here, oh well....
news march02: went to the usa and canada (nyc-boston-montreal) for two weeks and had a blast. thanks to all my friends there and especially to jun from japan who was there, too. do not miss the from ashes rise tour of Eurospe -- see you in the pit! they also recorded new songs for a split 12" before they left for Eurospe.
news february02: not many gigs happening lately, but i saw la fraction from france again who are always good live, punkrock with awesome female vocals played by very nice people. noone seems to know them in france but in germany they have been playing a lot over the last coupla years. also pretty good live were rifu from trondheim in norway who suck on record because they sound like an 80% (late) refused ripoff and they have pretentious lyrics that also seem to be stolen from another cheesy band from sweden. cool new goodies for the distro are the crucial section/face up to it! split 7" and the awesome 7" eps by asinine solution (killer fast us-midwest-thrash) and asschapel from nashville, tennessee who sound a lot like other tennessee bands such as hhig or from ashes rise. asschapel also have an lp out.
news january02: added some skuld releases (tragedy and from ashes rise Euros versions) and the new lp (their fifth!!!) by out cold called "will attack if provoked". the classic german label weird system has reissued almost all of their old classic lps so that you can get classic stuff like the first blut + eisen, razzia, nEurostic arseholes lps (these three lps are all among my all time german favourites). other quality stuff like the torpedo moskau lp and the keine experimente compilation are availbable again. all this shit is absolutely necessary.
news december01: the last coupla weeks were pretty good on the gig-front. i saw tragedy three times and born dead icons five times. my friends are now split in two fractions: those who think that tragedy were better and the others who preferred born dead icons. i am not telling who i liked better, both were amazing live. while tragedy could build on some ex-HHIG thing and got good turnouts, i was surprised how few people came to see one of the best livebands at the moment: born dead icons. i saw them in front of 5 people and they rocked anyway, luckily at least in berlin they had a crowd of several hundred who were waiting for them. we had fun. american nightmare were good also but when i saw them they played to a bunch of sXe losers who mostly thought they were too rough. the german label weird system has reissued almost all their old classics and i will get the most essential disks in a few days so that you can get the classic lps like blut + eisen, razzia, nEurostic arseholes (their first lps) at affordable prices.
news november01: some geek bootlegged the classic betong hysteria 7" (apparently someone from the usa). now i pretty much hate all bootlegs but in this case there are some people working on a legit re-release anyway. bootlegs are not diy!!! the heartfirst mailorder has some new goodies: the impressive fucked up and photocopied book for DM 40,-. you will not find this book cheaper anywhere in Eurospe, it is the softcover version. max from 625 is maybe going to do an lp with all fratricide stuff (including the pusmort songs). the project is very much in the beginning stages but he is currently compiling stuff to master the thing (not many master tapes are left for the various sessions). lots of gigs have been going on with tragedy, remains of the day who both destroyed and henry fiat's open sore who rocked. they were on tour with a good german band called suburban scumbags that sounds like early 80s us punkrock. rumour is they will be supporting the lewd (!!!) on their Eurospean tour in 2002. they sound a lot like them, too. cool tours that are coming up include ohuzaru, born dead icons and oma hans (ex dackelblut).
news september01: just came back from a 4 week holiday. i spent most of the time in oslo. i mainly hung out with my friends in various bars in oslo and also went to the eat the rich festival in trondheim. there also was an anti royal-wedding festival outside and inside of blitz. there are not many news on the norwegian music front, except for drunk going on tour in eastern canada (which is over by now) and summon the crows (ex alltid jaget) splitting up. jin'rik'sha' still have not found a new singer but plan to finish some more recording before the end of the millennium, we'll see. in 2002 there is going to be the 20th anniversary of blitz and you bet that some great old bands are gonna play there. the fall is bringing some great bands on tour, i am especially looking forward to tragedy, born dead icons and henry fiat's open sore (great swedish band). from ashes rise are going to tour next spring, hell yeah! i wonder when more people in germany are finally waking up from their emo-lameness and appreciate real hardcore again. toshiya from the classic japanese band idora sent me their new cdep called "seek" on the label hello from the gutter. i put out their debut 7" - remember? the five song cdep starts out with awesome old-style-idora hardcore that is at least as good as what they did 10 years ago and then moves on to more rockish tunes influenced by sabbath. on the mailorder front: i now have some copies of the awesome life's halt/what happens next? split lp on youngblood.